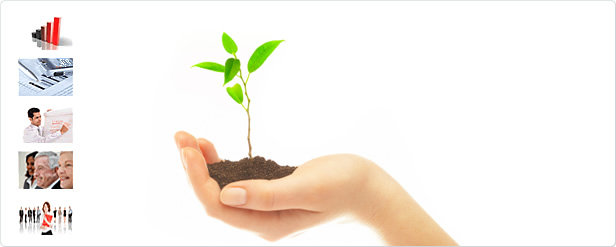 Radius Performance Management
"Tell me and I'll forget; show me and I may remember; involve me and I'll understand."
Skills and attitude
We develop and implement not only instruments. At least equally as important is the fact that we teach competence and a correct attitude. This increases the chance of lasting improvements.
Skills
Often, first line managers (team leaders, coaches,...) have risen to those positions via operational functions. After a short training they rarely receive any further support when developing their operational managerial skills. In our projects we also focus on this kind of competence through further training and coaching.
Attitude
DThe daily work attitude of managers and employees alike is an often underrated factor of performance improvement.
We translate the desired performance improvements into the desired change in attitude. In order to do so we use our "Behavioural Engineering" method. Our combination of system and behavioural change guarantees lasting improvements.
During our projects we observe and study behaviour and if necessary comment on it during one on one or collective coaching sessions.
Relevant behavioural factors:
How keen are managers on discussing change?
To what extent can individual productivity be discussed?
Who feels responsible for giving individual feedback?
To what extent does 'protecting' the team play a role?
Is process improvement the area of one particular function or is it a general enterprise goal?
How creatively can or does one want to look at one's own process?
How great is the sense of urgency to improve performance?
How great is the preparedness to let go of one's way of working?
Do managers consider the external consultant as being a source of help or as being some kind of lesser evil?
What management style do managers adopt? Directing or coaching?
How does a team leader look upon his role in performance management on the shop-floor?
Behavioural engineering
The iceberg of behaviour
Our behaviour (what we do and say) is determined by invisible factors, namely our thought patterns.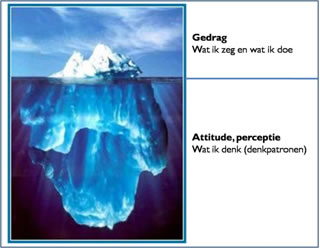 Examples:
- An employee with the thought pattern "I can still grow in my work" will gladly take on new tasks and be open to change.

- An employee with the thought pattern "I'm too old to learn new things" will display resistance to change.
We coach managers to recognize thought patterns (their own and those of employees) and to formulate adjusted thought patterns that will lead to improved department performance.
Examples of thought patterns:
"Our process is totally efficient: nothing can be improved."
"Process optimisation is the process managers' responsibility, not mine."
"I won't be too popular in my team if I begin addressing my employees as to their productivity! I'd rather not do this at all."
As soon as 'profitable' thought patterns have been identified, they can translated into behavioural expression. Behaviour is observable and makes recognizing evolution in thought patterns possible. Feedback mechanisms can then be set up.
In our projects, behaviour that is conducive to performance improvements is identified and an efficient feedback mechanism is developed and implemented to reinforce positive behaviour.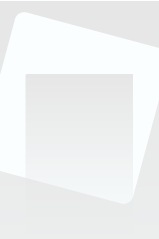 Testimonial


Radius develops skills and is a catalyser of energies.

LUC JANSSENS,
HR DIRECTOR DALKA BENELUX